Organizations wanting to develop IT products want a differentiated product with innovative features, compelling styling, and enriched user experience. A faster go-to-market, scalability and economics also are vital factors while developing a product. Product Engineering services at Damco help leverage our rich experience of over 80 products to deliver high-quality flexible products that are robust, scalable, reliable, and secure, while at the same time easy to deploy, simple to maintain, and modular to make further enhancements.
With hundreds of products developed for our customers, we make a reliable partner for any Product Engineering needs.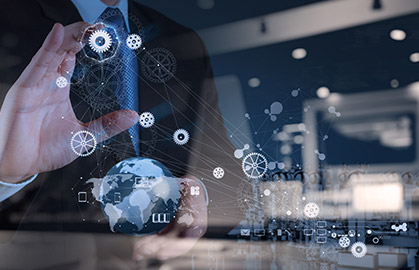 Product Development and Modernization
Damco helps companies develop and leverage innovation not only to engineer new products but also to modernize the existing products. Product Development outsourcing with Damco enables you to achieve accelerated time to market, reduced design cycle time, best practices in product architecture and development, and notable lower costs.
We focus on these key drivers to help you gain a competitive advantage in the volatile marketplace and are deeply committed to the success of our customers' initiatives. Our strong team is adaptive to the client's ecosystem giving complete visibility to our clients across all the phases of PDLC.
Below are the few characteristics of our product development and modernization services:
End-to-end coverage of the product development lifecycle - right from product conceptualization to product support and helpdesk.
Modernization of legacy products to leverage cloud, newer technologies, latest UX/ UI, mobilization, and other latest trends and best practices.
Adopt industry best practices towards all phases of the product development lifecycle which ensures quality delivery and maximize client's ROI.
Strong experience of product development in agile methodology - managing product backlogs, spring planning, and burn down velocity monitoring and tracking.
Best practices implemented for distributed development, continuous integration, release planning, automated smoke and regression testing, and DevOps.
Dedicated experienced UX/ UI team for implementing best practices for better user experience.
Evaluation of existing products for review of their architectures, database and code base to recommend possible options for modernization.
Reverse engineering of existing products to extract and document their business logic and rules for product modernization.
Follow metrics-driven process that covers performance target setting, performance improvement, and progress measurement.
---
Product Testing
Product testing outsourcing with Damco fosters agility and efficiency while meeting the high quality standards and demands of new customers, markets, and geographies. With flexible engagement models, cutting-edge technologies and platforms and alliances with leading testing tools vendors, we help you keep up with the fast pace evolution and rapid transformation.
We have robust expertise to undertake both localization and globalization testing to ensure that your products are relevant to the unique needs of local markets, as well as new geographies. Damco has been an integral part of many companies' ecosystem to test their suites of products, thereby enabling them to concentrate on their core competencies and hence make them sustain their competitive advantages.
Our dedicated practice ensures comprehensive testing of highly complex and innovative products for superior product quality as we:
Follow CMMi processes, industry best practices and proven methodologies to ensure measurable, outcome-oriented services.
Leverage our global delivery model to provide you onsite, offsite, and multi-shore testing services.
Have expertise in a wide array of industry leading testing tools such as Clear Quest, Load Runner, WebLoad, e-Load, Rational Performance Tester, OpenSTA, QALoad, WinRunner, QTP, E-Tester, Rational Robot, Silk Test QA Run, Microsoft HCT Test Suite, Test Director, Bugzilla.
Have alliance with leading tool vendors and technology platforms to offer high business value and cost savings.
---
Product Support and Helpdesk
With rapid release cycles, expanding customer base and global product reach, coupled with cloud delivery, mobile/tablet enablement that requires multi-lingual, multi-device and multi-geography support, supporting software products over product lifecycle has become an extremely challenging and costly affair. Damco's product helpdesk services provide end-to-end pre-and post-sales product support services to help you reduce total cost of operations, increase time to market and improve customer satisfaction across geographies. Our support services include:
Order Management: Presales inquiry, Product information, Post sales queries/inquiry, Presales kit support, Order processing, Customer coordination and relationship management activities.
Licensing/subscription and warranty support: New customer enrolment, Verification and validation, License activation/deactivation management, Licensing issues management, Licensing/subscription management issues handling, Warranty purchase registration, Warranty claims processing, Extended warranty validation, and Service contract management.
Technical Support: How to question, L1/L2/L3 technical support depending on support needs, Cloud deployment and maintenance support, Remote technical support, Voice/Chat based technical support, Upgrades and system optimizations, Data backup/recovery, Installations and product upgrades, Configuration management, System administration.
Technical Writing: Product Documentation, User Manuals, Installation and configuration guides, System Administration Manuals, Reference Manuals, Troubleshooting guides.