Leveraging our knowledge of latest mobilization technologies, we are continually helping enterprises in seizing the mobility opportunities and enabling them to derive massive business mileage. We offer end-to-end mobile services, ranging from strategic consulting to design, development, testing, and implementation services that are aimed to facilitate faster time to market and enhanced operational efficiencies. We have extensive capability across the complete spectrum of mobility including:
Strategy consulting services whereby we help develop a mobile strategy that is deeply integrated with business strategy and objectives.
Mobile architecture design to pick the best of breed technologies required for an agile and scalable mobility infrastructure.
Mobile user experience services to create rich, immersive, and compelling mobile experiences.
Mobile application development services to support native iOS, Android, BlackBerry, and Windows Phone development, as well as cross platform application development services.
Mobile security services for new mobile applications, as well as analyzing existing mobile applications and additionally performing general assessments for governance, risk, and compliance management.
Mobile application testing services for performance, security, scalability, compatibility, and usability.
Integration of mobile applications with a host of back-end systems.
We have helped start-ups and individuals materialize and execute their mobile apps ideas in various genres - Business, Education, Entertainment, Lifestyle, Finance, Productivity, Social Networking, Sports, Travel, and Utilities.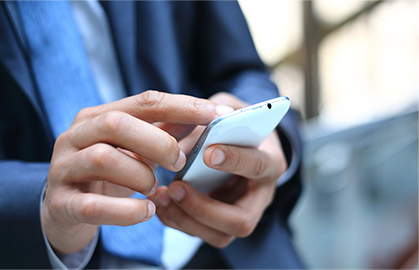 Bespoke Mobile Apps
Be it native, hybrid or web mobile applications, Damco has cut across technologies, frameworks, domains, and industry verticals to emerge as a partner of choice for organizations to reap the business benefits of its mobile-based services.
With a dedicated practice centered on intuitive and aesthetically pleasing mobile user interfaces, we have an envious track record of successful and superb execution of mobile app development projects which ensures a right, impactful and winning solution for your business. Damco has successfully delivered over 100 projects on time, within budget, and with robust quality.
Damco caters to different kinds of bespoke mobile application developments:
Bespoke Native Mobile Applications which can be installed in the devices. These apps are designed and developed for specific devices and may work in a disconnected mode, connected mode or dual mode, depending on whether the app has all the data on the device itself or may need data from the server using web services.
Bespoke Mobile Web Applications, also known as mobile browser applications, are not installed on the device but can be accessed using the mobile browser by hitting the URL of the application. These apps are nevertheless designed to work on mobile device screen sizes and resolutions and thus give a good user experience. The advantage they provide is that the app code base is the same across all devices.
Our team has a strong experience of working with Apple App Store, Google Play, and Windows App Store to develop specific applications for them including in-app purchase capabilities.
---
Enterprise Mobility
Mobility has been accepted as the most disruptive technology faced by enterprises today. In the past few years, mobile devices have evolved from just providing enterprise email and data on the move, to introducing applications and services that have the potential to change the way companies do business. Mobility can help companies leverage contextual data to reach out to their customers more effectively.
Damco helps leading corporations leverage enterprise mobility as a strategic arsenal to redefine their customer value and business outreach. Damco combines its extensive experience and profound prowess in mobile consulting and technology, to magnify the business gains throughout the mobility value chain and places enterprise applications development in mobility perspective. Our enterprise mobility services help you make strategic mobility decision with the adoption of right technology and frameworks.
We have an envious portfolio of design and delivery of enterprise mobile applications in a wide range of application genres including:
Native Applications with interfaces to Enterprise Applications
Business Productivity Applications
Enterprise Application Extensions including CRM, Distribution, ERP, Logistics, EMR
Custom Applications and Utilities
Mobile Point Of Sale
mCommerce Solutions - PoS, inApp purchases
BI Dashboards and Analytics
---
Cross Platform Mobility
Damco develops, customizes, integrates, installs, deploys, and implements mobile applications across iPhone, Android, and Windows mobile platforms using commercial and open source mobile frameworks. Our cross platform mobility services range from small to composite mobile applications. We have delivered successful applications in various categories e.g. News, Tools & Utilities, Travel, Shopping, Books and Education etc.
Damco has competent, knowledgeable and high-caliber resource pool of cross platform mobile developers on all major cross platform SDK and frameworks including but not limited to PhoneGap, AppAccelerator, MonoTouch, Apache Cordova, Titanium, jQuery Mobile, HTML, and Sencha.
A bundle of business advantages is accrued to organizations by Damco's cross platform mobility offering, such as:
Shortened development cycles
Reduced time-to-market and augmented productivity
Increased marketing outreach
Extended customer base
Multi-pronged customer service
Wide service delivery