Damco offers a comprehensive portfolio of business-driven quality assurance and testing services focusing on timely deployment, reliability, and robustness. Damco's Testing Services offer functional, non-functional, and test automation services to ensure your applications are performing optimally. We understand your need to reduce testing costs while continually improving quality and throughput of new functionality. We combine our consulting and testing expertise with appropriate industry-specific testing solutions to address specialized requirements that are at the core of your business.
Damco optimizes your applications with:
Enhanced application quality and performance
Testing capability properly sized and aligned to the business
Early identification of defects to reduce rework and TCO
Reduced time to market on new applications and systems
Improved test maturity, towards "first-time-right" applications
Metrics and benchmarks to measure quality and performance
Our testing services are a unique amalgam of traditional and latest services spanning from QA of applications/software/systems to testing under new-generation technologies and platforms such as Mobility, Cloud, SOA, Social Media, and Big Data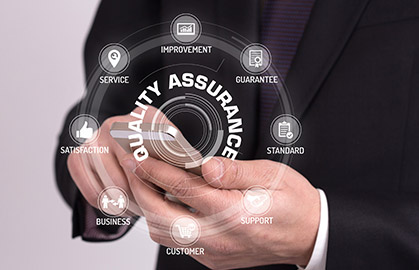 Testing Services at Damco are driven by:
Testing Center of Excellence (TCOE) to advocate continuous process improvement best practices and knowledge sharing.
Industrialized and structured processes to efficiently execute and measure performance using multiple indicative metrics.
Highly capable and committed resources with testing expertise in various domains and specific tools.
Our end-to-end high quality outcome based testing processes ensure ultimate quality and accelerated go-to-market time along with greater cost reduction.